Questa pagina fa parte del sito L'Ottocento dietro l'angolo di Paolo Chiaselotti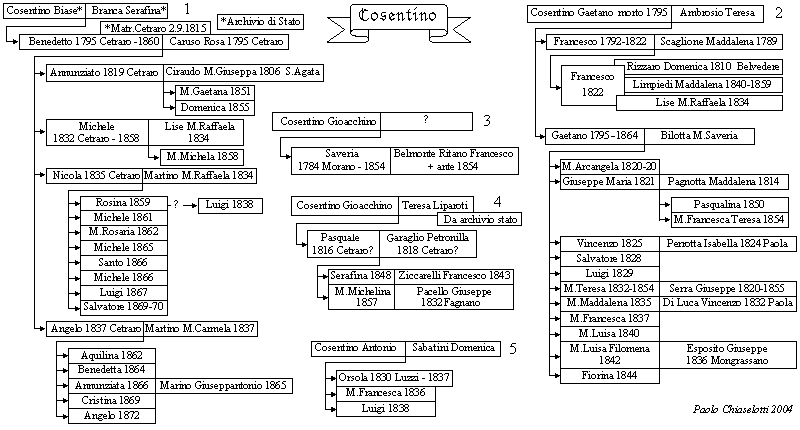 Il cognome Cosentino (o Cusentino) fu registrato la prima volta nel 1820 con la nascita di Maria Arcangela, figlia di Gaetano e di Bilotta Maria Saveria. Abbiamo rappresentato cinque distinti alberi. Di uno abbiamo certezza che proveniva da Cetraro ove nacquero quattro membri che si sposarono a San Marco.
Erano vaticali (vetturale) e bracciali e abitarono sia nel centro urbano, quartiere Casaletto, e sia in campagna in contrada Solamo, Sagramento e Prato.
The surname Cosentino (or Cusentino) was registered the first time in 1820 with the birth of Maria Arcangela, daughter of Gaetano and Maria Saveria Bilotta. We represented five different family trees. We know surely the origin of only a family, since four members, that married in San Marco, were born in Cetraro.
The men were carters and farm workers; they lived in town (Casaletto street) and in country, at Solamo, Sagramento and Prato.