Questa pagina fa parte del sito L'Ottocento dietro l'angolo di Paolo Chiaselotti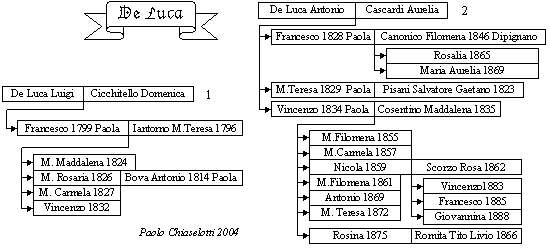 Probabilmente si tratta di un unico ceppo giunto a San Marco Argentano agli inizi degli anni venti dell'Ottocento. Infatti il cognome De Luca è documentata dal 1823 con il matrimonio di Francesco, un bracciale nato a Paola nel 1799, con Maria Teresa Iantorno. Alcuni decenni dopo si sposò a San Marco Vincenzo De Luca, anch'egli proveniente da Paola, di professione sartore. Egli dar&agrave origine al ramo che si estende fino alla fine dell'Ottocento. Il figlio di Vincenzo, Nicola, muratore, sposato con Rosa Scorzo, nell'anno 1885 era emigrato in America. Certamente si tratta di quel Mister De Luca che Salvatore Cristofaro nella Cronistoria cita per un'offerta di 400 dollari al Monastero delle Clarisse.
Abitarono tutti nel centro urbano, nel quartiere Capo le Rose.
Probably the two families, that came to San Marco Argentano at the begin of nineteenth century, belong to a only tree. In fact the surname De Luca is documented since 1823 in the marriage record of Francesco, farm worker from Paola, and Maria Teresa Iantorno. After some years Vincenzo De Luca, a tailor coming from Paola too, married in San Marco. He his the head of a family existing until the last years of that century. Nicola, Vincenzo's son, maison, who had married Rosa Scorzo, in 1885 was emigrated to America. Certainly he is Mister De Luca that Salvatore Cristofaro mentions in his History of the Town for a donation of 400 dollars to the Convent of Santa Chiara.
All members lived in town, at Capo le Rose street.