Page from web site "L'Ottocento dietro l'angolo" (www.sanmarcoargentano.it/ottocento/index.htm) by Paolo Chiaselotti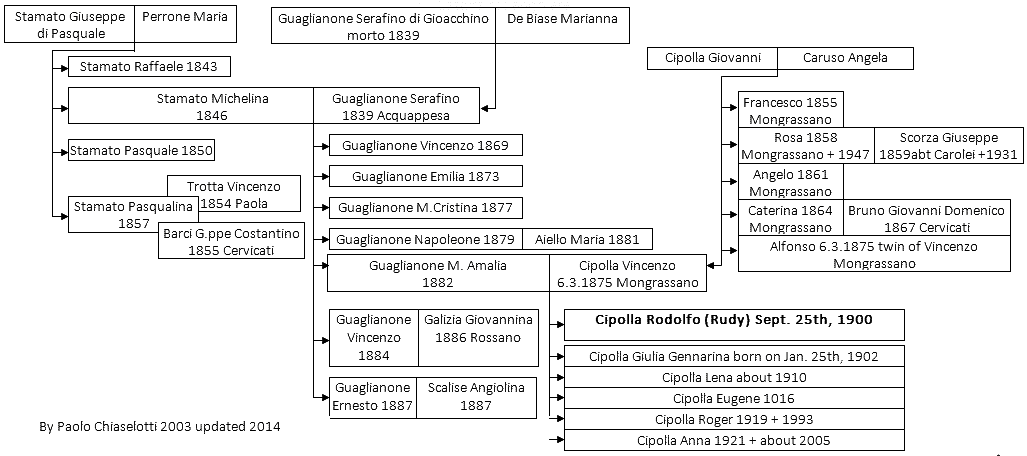 Rudy's pictures

Rodolfo Cipolla (Rudy) was born in San Marco Argentano on 1900, Sept 25th. His parents were Vincenzo Cipolla and Maria Amalia Guaglianone. Vincenzo Cipolla, son of Giovanni and Angela Caruso, was born in Mongrassano, a little village of Albanian origin, Amalia in San Marco Argentano where they married on Oct 7, 1899. Vincenzo was a barber with workshop at via Giudeca.
Here is the genealogical tree of Rudy. Besides Cipolla, the families he was descending from are Caruso, Guaglianone, Stamato, but only the last two lived at San Marco Argentano; we have not documents about the grandparents of Rudy since they lived in Mongrassano.
Vincenzo and Amalia with Rodolfo and Giulia Gennarina, a daugther born on 1902, emigrated to America on 1908, where Rodolfo, called Rudy, became a famous mandolinist and composer.
Here are some news about Rudy written by his nephew Jon : &quotHe wrote and played music for the movies 'Capone' and 'Peggy Sue Got Married'. He was the chubby guy in the window (shadowed) of the Moose lodge playing the mandolin in Peggy Sue..."
Some years ago the town of Cosenza organized a musical meeting in which the figure of Rudy and his works were remembered.